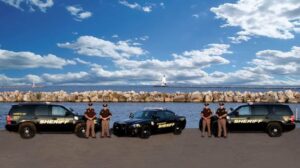 Mason County is located along the beautiful shores of Lake Michigan, and has a population of approximately 28,274 residents. There are 900+ miles of county roads that are patrolled by our deputies. Employees of the Mason County Sheriff's Office are committed to serving and protecting the public. We take pride in our community, and are dedicated to improving the quality of life in Mason County.
  For an Employee Application
https://www.masoncounty.net/departments/sheriff/employment.html
you can also email sher[email protected] (Subject: "Application Request")
or
stop by the office and pick one up.
Mason County Sheriff's Office
Sheriff Kim Cole
302 N. Delia Street
Ludington, MI 49431
231-843-3475
231-843-1814 (Fax)