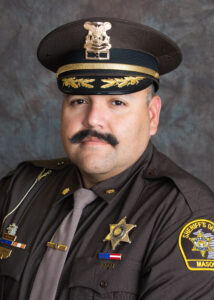 Oscar Davila is a 21 year veteran with the Mason County Sheriff's Office and was recently promoted to Chief Deputy of Road Patrol in June of 2018.
Chief Deputy Davila is a 18 year member of the Mason County Tactical Team and is currently the team leader of command operations. In addition, he is also a member of the Michigan Tactical Officers Association (MTOA), Illinois Tactical Officers Association (ITOA), the National Tactical Officers Association (NTOA), and a member of the Michigan Sheriff's Association.
Chief Deputy Davila also received a Citation for Bravery which stemmed from an incident that occurred in the City of Ludington in 2012.
Chief Deputy Davila has been a certified defensive tactic instructor for twelve years and has served in several other instructor level positions for the Mason County Sheriff's Office. Chief Deputy Davila has served as an adjunct instructor since 2003 at West Shore Community College Police Academy. He is also a 2000 attendee of the Michigan State University Community Policing.
In 2013 Chief Deputy Davila completed ALICE Instructor level certification training in Wisconsin and has used that training to help implement additional proactive responses to active violence trainings throughout Mason County. Chief Deputy Davila has assisted in our surrounding areas with helping develop proactive response to active violence programs for those schools as well and helped to coordinate the Mason County School Safety Team by bringing all the school officials together and then working closely with them to bring school safety training to the forefront of our community.