⇒Vehicle crashes are a leading cause of death and injury for American children
⇒A correctly used child safety seat can reduce the risk of death by as much as 71 percent.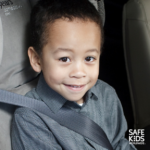 ⇒3 out of 4 car seats are not used or installed correctly.
If you are in need of a car seat check/install please fill out this form and our tech will contact you.

https://form.jotform.com/203344761279156

Links and resources through Safe Kids Worldwide:
Participate in an Online Class. https://www.udemy.com/course/basic-child-passenger-safety/
The class is taught by a CPST and covers every car seat stage as your child graduates from a rear-facing seat to when they can wear an adult seat belt.
Check out the Ultimate Car Seat Guide. https://www.safekids.org/ultimate-car-seat-guide/
An interactive, online tool that provides expert guidance to parents on everything from how to fit a child into a car seat to knowing when it is time to move to a new type of seat. The Guide also has a custom option where parents insert their child's date of birth and weight to learn about their child's specific car seat needs.
Join Safe Kids Facebook Live events. https://www.facebook.com/SafeKidsWorldwide
Parents and Caregivers can visit http://www.safekids.org for more information.