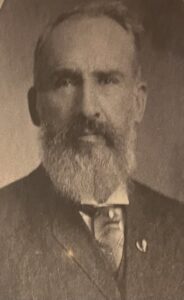 The Mason County Sheriff's Office is located in the county seat of Ludington, along the shores of Lake Michigan. The first Sheriff of Mason County was Daniel Holmes, who was appointed to the position in 1855.
Historical Facts About the Sheriff
Since 1855 Mason County has seen 23 sheriffs elected to serve the citizens of the county. Sheriff Holmes (appointed in 1855 and elected in 1872-1880), Sheriff J. Sabin (elected in 1855 and again in 1865-1872) and Sheriff George Colyer (elected in 1918-1923 and again from 1926-1941) all served as sheriff at various times in history with Sheriff Colyer serving at the President of the Michigan Sheriff's Association in the 1930's . One family has been fortunate to have two members serve as sheriff. Sheriff Henry Cole served from 1899-1903 and his great-great grandson, Kim Cole, currently serves as sheriff taking office on January 1, 2013.
The longest serving sheriff was Edward Anderson who served from 1943-1964.
Sheriff Shot
Sheriff Henry Cole (1899-1903) has been the only MCSO deputy to have been shot on duty. The Ludington Record reported on November 29, 1900: "Frank Curtis, dog warden of the city of Ludington, is safely ensconced at Hotel de Cole, where he occupies a private apartment and receives the careful attention of urbane officials." The article further reports "The fracus commenced on Ludington Avenue last Saturday night when Night watchman Gavigan arrested Curtis in Nueman's saloon on a warrant charging simple assault and battery." Curtis had reportedly "drew back into a dark doorway and pulled an ugly Smith and Wesson 38 calibre revolver he carried in a belt. The officer also drew his revolver and the two men with weapons drawn and ready to shoot grimly faced each other. Justice Hunter and Prosecuting Attorney Keiser appeared on the scene and endeavored to persuade Curtis to hand over his gun. The latter refused to do so, declaring he would never be taken alive… Keiser stepped into the telephone exchange and summoned Sheriff Cole who soon appeared post haste. At any rate the sheriff soon appeared and the two officers closed in on Curtis who began counting "one", two, three" preparatory to shooting. As he said "three" Officer Gavigan reached out and caught the muzzle of Curtis's gun as quick as a flash…at the same instant Curtis, taking long chances, pulled the trigger, and the gun discharged, the bullet passing through Mr. Cole's upraised hand and barely missed Keiser's head."
Thankfully Sheriff Cole survived the ordeal and served a second two year term.
Tragedy Strikes
On March 12, 1966 MCSO Deputy Max Altman was struck and killed by a fleeing vehicle while attempting to clear the US10 & US31 (now known as Pere Marquette Hwy) intersection of innocent motorists.
Reports indicate Deputy Altman, 32 years of age, had only been with the agency for 3 months when he was struck and killed by a vehicle fleeing from Scottville Police. It was reported the vehicle, a black 1957 Buick, was exceeding 100 miles per hour and it traveled westbound on US10, away from pursuing Scottville PD, when it crashed into the deputy.
Deputy Max Altman has been the only MCSO deputy to have lost his life while on duty. Deputy Altman left behind a wife and three young children.
Times Have Changed
From the early days of the Sheriff's Office, which at its start, consisted of a sheriff and his deputy and an occasional arrest today has become a fully functional, multi-faceted professional organization.
Today the Sheriff's Office employs over 40 professionally trained deputies, specially trained in various fields to better serve our great community. From K-9 to crash reconstructionists, evidence technicians to divers, Mason County has some of the best trained deputies around. Supplemented with a volunteer base of nearly 50 Mounted & Reserve Deputies along with a Victim Services Unit; a correctional facility which houses over 100 inmates and 24 hour a day, 365 days a year road patrol, YOUR Sheriff's Office is committed to service above ones self.

For information to help you plan your trip to Ludington, visit PureLudington.com to learn about the area's many attractions, dining and lodging options, or call 800-542-4600 to speak with someone who can assist you. You can also download a 2022 Pure Ludington Destination Guide here.
Make the Connection

   Make the Connection connects Veterans, their families and friends, and other supporters to mental health information      and hundreds of videos of Veterans sharing their inspiring stories of recovery. The site is free to use and accessible to everyone.
For all Veterans, recovery is possible — even during these challenging times.
https://www.facebook.com/VeteransMTC
https://www.instagram.com/veteransMTC/